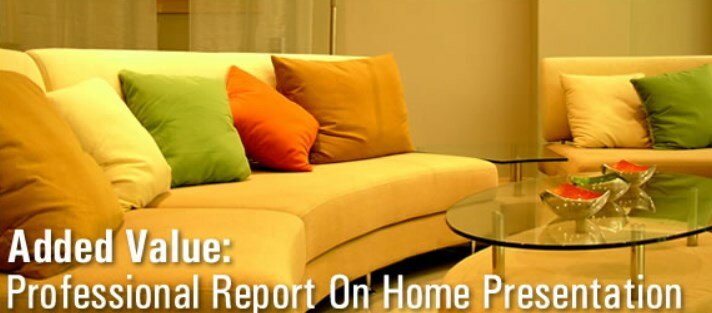 A FREE Independent Presentation Enhancement Report
Along with marketing – presentation plays a huge part in the sale of your home. Great presentation can sell your home for a higher price, in a shorter period of time.
Why is the presentation of your home so important when it comes to selling?
creates a great first impression with buyers;
ensures maximum buyer interest, desire, and competition – giving you the best possible sale price;
the more appealing your home, the sooner it will sell;
the quicker your home sells, the less stress and inconvenience for you and your family.
Utilise the knowledge and experience of an independent interior designer to provide you with an objective and constructive presentation report.
Steps To Take For Better Presentation
The Way to Make Your House ready to Market
Before you put your home on the current market, get to know your competition, the sector and be certain that your residence is looking its very best. Below are a few pointers that will assist you determine what to do until you market, and the way to draw buyers focus.
1. Do your homework
Check out the contest
It is always best to find out what else is on the market. Proceed to open houses and examine your property with other people in your town. Your will also have the ability to assist.
Know the Industry
To discover a bit more about the current market, look at, request a or talk to a. Your salesperson has market and local knowledge that will assist you to get a fantastic idea of what your house is worth now.
Consider what buyers need
Various individuals have different requirements, therefore it is always great idea to consider what buyers may be searching for before you begin the selling procedure. By way of instance, young households might choose to have another bathroom or fenced property. As our bargain with buyers on a daily basis, they will have a fantastic idea about what buyers need.
2. Repairs and renovations
For a lot of people, selling their house gives them an ideal chance to make minor repairs and touch ups that they might have been setting off for quite a while.
Doors that don't closed holes in walls, peeling wallpaper and draining faucets are only a few of the things which could turn buyers off and are comparatively simple to repair.
And see retro orange background over there which you love or are used to you forgot it is there? You might choose to consider painting it with a color that'll appeal to many people.
Re-painting Your Home
A fresh coat of paint goes a long way when it comes to styling your house to sell.
We recommend hiring a professional Auckland house painter to come in and do the job properly. There is nothing worse than a rushed paint job done by the homeowners right at the last minute as they try to sell their home. Do it right, hire a pro. It will be well worth the extra investment.
Major and expensive renovations such as toilet updates can be a terrific way to create your home more attractive to buyers. But be certain that you aren't overcapitalising and you'll have the ability to make your money back.
3. Consider first impressions
In front of a buyer enters the house, they have already formed an opinion based on what they have seen from the street. Have a stroll out into the kerb and consider whatever may possibly turn buyers away.
Freshly cut yards, a well cared for garden or hedge, clean paintwork in your home exterior and water smashed concrete and fences create a massive difference and will produce the purchaser wish to step inside.
Having open houses?
Discover How to prepare for your open houses with our open house hints
4. Declutter and wash
Prior to starting the selling process, it is a fantastic idea to consider the area in your home and how it is possible to make the most of it.
You might have the best area on the planet, but jumble and uncleanliness is simply likely to obscure it and also make the rooms seem smaller. Consider this as a head start on packing your property.
Best hints
think about selecting a storage unit to house those items which don't have a location in your house
Clean everything – from skirting boards to walls, walls and supporting fridges
Consider getting your carpet professionally cleaned
Buyers can open your cabinets and cabinets also, so ensure that you make care to check at these.
5. Disassociate yourself from the Residence
Your private mementos make your home a house. Therefore it stands to reason that buyers will find it difficult to imagine living there if it's full of your family photographs and heirlooms.
6. Period the home for buyers
It is almost always a fantastic idea to know that the prospective buyers will be very likely to be — if they're singles, families, first home buyers – so you could groom the house in a manner that appeals to them. It's possible to either do that yourself, or employ one of those staging businesses in your region.
Your sales people have plenty of expertise within this section and can offer you advice and data.
Make your home more appealing to buyers so that you sell faster for a higher price.
Just another example of how at Coopers we give our clients more.