Company Profile
Coopers is a Real Estate company that saw the need to break away from the status quo and build a new way that focused and delivered on the needs and wants of home sellers and buyers, with absolute consistency and efficiency. Located in Rotorua and Tauranga, New Zealand, Coopers was established in September 2002 from the passionate belief, enthusiasm and determination of a team of experienced and successful business people.
In order to fulfil these objectives, the company focused on five key foundation principles:

Our staff must be the very best:
Throughout our entire team, our staff must have the best attitudes, values, ethics and knowledge. They must be givers, not takers. They must combine to form an exceptional team.
Our customer service will be the very best in the New Zealand real estate industry:
To achieve the best results possible for our customers we must be very focused, structured and disciplined:
the needs of our customers must come before our own;
we will work closely with a limited number of customers;
we will have excellent systems in place that achieve consistent and exceptional results;
we will maintain the team passion, commitment and discipline to ensure our high standards are never compromised.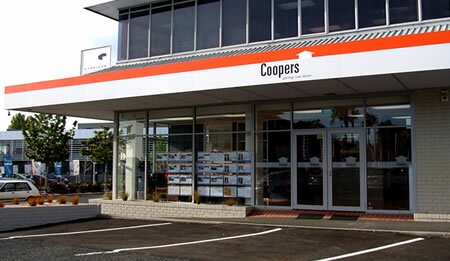 Our business image and reputation will be impeccable:
From our business premises to everyone that works in our team – "to be the best we must look and work the best".
Our business is built on trust, integrity and honesty:
we must earn our customer's trust and loyalty through honesty, respect and commitment;
all our customers will be treated with absolute fairness.
We are committed to working efficiently and smarter:
To developing and implementing innovative and pro-active marketing strategies for the benefit of our customers.
It is the ongoing application of these principles that can be seen in the business image, it's market reputation and the levels of customer contact and service that are being achieved. These five strong foundation business principles are at the heart of the Coopers Team, to provide their customers with the assurance of not only a successful outcome but also a positive and enjoyable experience.